This thread has quite a good discussion of the lack of full plate armor in in the Middle East (and eastern europe) compared to XV and XVI century western europe:
https://www.alternatehistory.com/fo...mic-sultanates-adopt-full-plate-armor.453202/
. They present a good number of guesses of why MENA and eastern europe generally didnt continue add more and more plates to their plate and mail/four mirrors armors to get to full plate. Basically sticking to this:
Russian Four Mirrors
Russian Plate and Mail Armor
Mamluk Plate and Mail Armor
Ottoman Four Mirrors Armor
Instead of adding even more plates until getting to this:
Italian Full Plate 1450
In the original thread it was suggested that maybe it was the ressult of the warmer and dry MENA climates (discarted because Russia, cold and no full plate, and italy, warm and full plate), generally more developed western technology and economy (quite unlikely at this point and wouldnt explain why eastern rivals didnt adopt "superior" full plate) and finally different war doctrine (I am doing this from memory so I may missed a point, read the old thread, its quite interesting). Regarding the last point I noticed something, I remember reading "somewhere"TM that on reasin for the continously adding more and more plates of articulations in full plate was to protect from crossbow bolts. It goes like this, tradicional mail and gambeson (padded under the mail armor) are enough to protect from sharp melee and from arrows (they pass by the mail but are stopped by gambeson) and in case of blunt trauma (hammer and axes, used both in W europe and MENA/Russia) with either a shield and/or adding a few plates in vital areas you would be likely fine, but with crossbows (specially because just like with arrows you will be showered in them from a lot of sides) you couldnt count on your gambeson to stop their bolts once they get past your mail so that provided quite and incentive to cover every posible part of your body with plate (which can stop bolts and basically anything except bullets).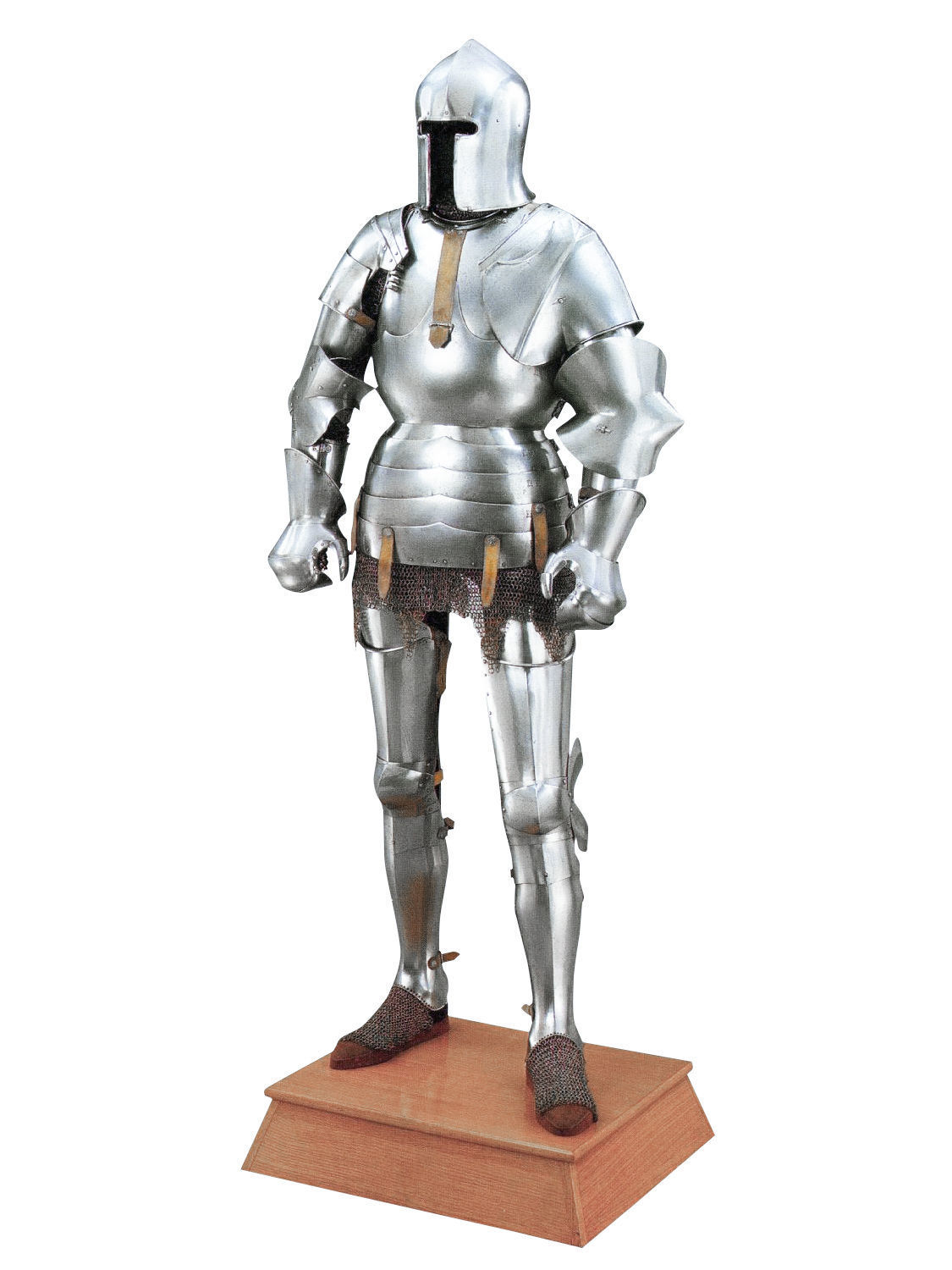 Seriously you cant even see the mail parts in the arms, look at the size of the elbow/ shoulder pieces.
I couldnt find any info that indicated use of crossbows in MENA or Russia in the centuries that it became widespread in W. europe, so maybe a lack of threat of bolts and an earlier adoption of firearms (at least by the gunpowder empires) resulted in lack of incentives to develop (or import from countries that did use it) full plate and the earlier adoption of guns made the question irrelevant. Does this theory works?