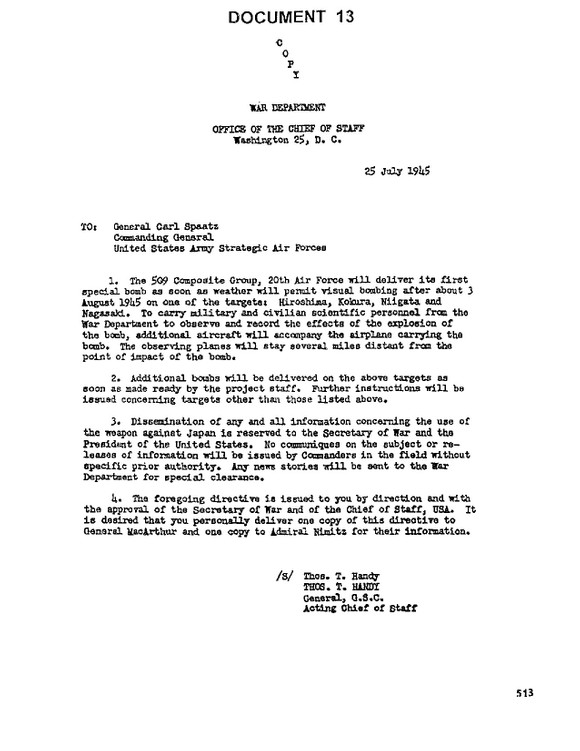 So many atomic bomb threads this week, so little time...
Today of course is the 75th anniversary of the
atomic bombing of Nagasaki
, the second (and so far, last) city to suffer destruction from nuclear attack. I think most people here appreciate that the United States was fully prepared to keep splitting atoms over Japan if a surrender wasn't forthcoming. As Harry Truman
said
on August 10, "
We shall continue to use it, until we have destroyed Japan's power to make war. Only a Japanse surrender will stop us.
" To that end, Prof.
Mark Felton
has yet another new video up today on Youtube about what likely
would
have happened next.
Gen. Leslie Groves informed the JCS that his team on Tinian would have a third bomb ready to use on August 19. And he still had cities left on the July 25 order from the War Department (Document 13 above): Kokura and Niigata. Of course, given Truman's decision to pause atomic bombing after Nagasaki, there is no guarantee that this list would not be expanded, or that a different specific city would not be given to Spaatz and Groves to target. Felton surmises that
Kokura
would draw the short straw, with Niigata being the backup target. Seems plausible to me, too.
After that, however, things remain more uncertain.
Operation MAJESTIC
- the massive amphibious invasion of southern Kyushu scheduled for Nov. 1, 1945 as X-Day, previously called OLYMPIC until the name was compromised after being sent out in unsecured code - planning was still in full swing, and atomic bombs could be enormously useful in smashing Japanese defenses. And there would be only so many bombs to go around. For the record, the
planned production rate
was for 3 bombs per month starting in August, which was expected to rise to 5 bombs per month in November, and 7 bombs per month in December. In 1946, it could rise much higher. This could mean as many as 6 bombs for use, all at once, on or right before X-Day - but only if the attacks on cities ceased for the time being, which of course poses its own difficulty in terms of Allied messaging to Tokyo. ("The Americans were bluffing! They only had a few bombs after all!")
[This raises the question of the massive
October 1945 typhoon
, and the risk that it could have delayed MAJESTIC all the way to spring, though there remains
some dispute
(
@Matt Wiser
did some study on MAJESTIC in this regard) about the delay it could impose. But American planners in August don't know about that yet.]
So, assuming that Japan continues to fight, presumably because the attempted Kyūjō coup actually succeeds, or the Emperor decides to intervene on the side of the hardliners, in hopes of obtaining "honorable" terms from the Allies:
What would U.S. leadership (President Truman and his chief advisors) most likely have decided to do with its atomic bombs going forward?

Continue a regular tempo of bombing Japanese cities (and other high value targets) going forward, as bombs became available?
Call a halt to bombing to build up a small stockpile of bombs to be used in support of Operation MAJESTIC?
Proceed with some mixture of (1) and (2)?

If the United States proceeds with non-invasion related bombing, what cities and other targets would be on the expanded target list? Would Tokyo and Kyoto continue to remain off the list?
As a corollary I would be curious what people think would be
the most likely course of action for November onward if in fact MAJESTIC is called off until March
, replaced with CORONET, or even scrubbed altogether for Nimitz's and King's preferred strategy of bomb-and-blockade. There are all sorts of possibilities here, and a growing stockpile of nukes to do them with. Obviously, there are people who think that Japan would have been forced to surrender by that point anyway...