December 1999 Box Office Battle: Cats vs. Mice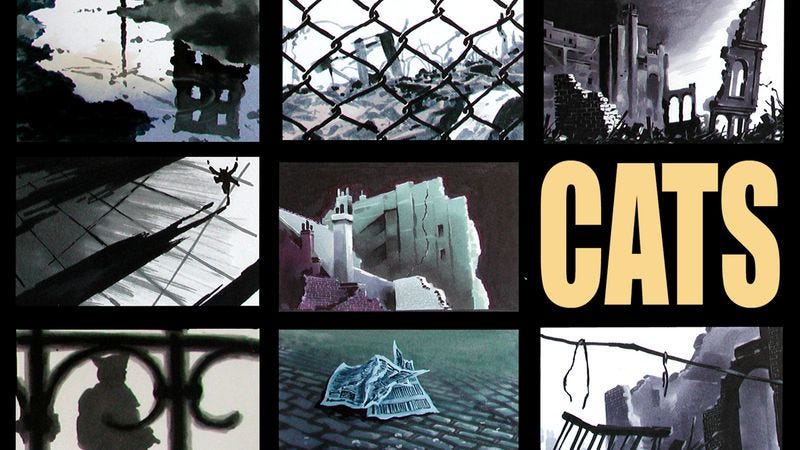 Cats
Released on December 3, 1999
Produced by
DreamWorks SKG
Distributed by
Universal Pictures
Written and Directed By
Simon Wells
Phil Nibbelink
Based on the musical by
Andrew Lloyd Webber
Voice Cast
Timothy Dalton as Munkustrap
Elaine Paige as Grizabella
Charles Dance as Macavity
Helena Bonham Carter as Demeter
John Rhys-Davies as Old Deuteronomy
Emma Thompson as Bombalurina
David Hyde Pierce as Mistoffelees
John Partridge as Rum Tum Tugger
Paul McGann as Alonzo
Drew Varley as Mungojerrie
Job Gibb as Rumpleteazer
Brian Blessed as Bustopher Jones
Felicity Kendal as Jennyanydots
David Tennant as Skimbleshanks
Melanie Walters as Jellylorum
Sir John Mills as Gus
Stuart Little
Released by Columbia Pictures on December 3, 1999
Based on the book by
EB White
CGI animation produced by
Columbia-TriStar Imageworks
Cast and Crew
Same as OTL
Fantasia/2000
Released by Walt Disney Pictures on December 10, 1999
Executive Producers
Roy E. Disney
Walt Disney, Jr.
Donald W. Ernst
Music for New Segments Performed by
The Orlando Philharmonic Orchestra
Conducted by
Jahja Ling
PROGRAM
(Animation in these segments are the same as OTL)
Beethoven's 5th
Beethoven's 5th opens the film as an overture of sorts. Reminiscent of how Bach's Toccata and Fugue in D Minor opened the original.
Ottorino Respighi's
Pines of Rome
Introduced by:
Steve Martin and Itzhak Pearlman
George Gershwin's
Rhapsody in Blue
Introduced by:
Quincy Jones with Ralph Grierson
IOTL, my first exposure to this piece was really through United Airlines' Friendly Skies commercials.
The Steadfast Tin Solder
Based on Hans Christian Andersen's fairy tale.
Music:
Shostakovich's Piano Concerto No. 2
Introduced by:
Bette Midler and Yefim Bronfman
Carnival of the Animals (Finale)
Introduced by:
James Earl Jones with Eric Goldberg
The Sorcerer's Apprentice (From the original Fantasia)
Introduced by:
Penn and Teller
Sir Edward Elgar's
Pomp and Circumstance
(Marches 1 thru 4)
Introduced by:
Jahja Ling and Yo-Yo Ma
Stravinsky's Firebird (1919 Version)
Introduced by:
Angela Lansbury
The Sorcerer's Apprentice
From the 1940 Fantasia

Composed by
Paul Dukas
Based on the poem by
Johann Wolfgang von Goethe
Directed by
James Algar
Music for
The Sorcerer's Apprentice
performed by the Philadelphia Orchestra conducted by Leopold Stokowski.​