1990 FIFA World Cup Quarter-Finals
1990 FIFA WORLD CUP
Part 3
​
The Quarter-Finals would see mostly the usual suspects such as Brazil, Argentina, England and West Germany in the last eight, though it did feature Cameroon playing at this stage for the first time [1] and being the last remaining African team left in the tournament meant that a whole continent was rooting for them to make history and make the last four. Though the Germans may had been favourites to go through, they did though had some luck when they beat the United States in that controversial game. With the history of Cameroon once being a German colony, there was certianly quite a bit of interest in how things would end up.
With that though, West Germany started off the better team with them getting a goal from Kinsmann in the 25th minute and that looked like the Germans were going to add to their tally yet despite looking the better team, they were unable to find more goals come halftime with the score still at 1-0. At the start of the second half for Cameroon, Milla was brought on which he helped in part create one of the most stunning turn arounds ever in which in the 61st minute after the Germans gave away a penalty, Cameroon equalised and it got worse for the Germans then when Cameroon netted a second which would've made a country and perhaps continent delirious as they were close to the last four now.
Cameroon players celebrate after taking a shock lead over West Germany
​
However rather than try to shut up shop and try and not do anything foolish, Cameroon's rough play would come to haunt them in which just eight minutes before the end of the match, Cameroon gave away a penalty in which the Germans gladly took and scored to get back into the game which would see the match head into extra time. During that though, neither side could get through with Cameroon playing for their lives in which their plan to take the game to penalties worked with just one problem...it was the West Germans who were known for doing well in shootouts [2].
The shootout that followed would be the first time an African had taken part in a shootout but sadly Cameroon couldn't pull of an upset and thus it was the Germans that moved onwards to the Semi-Finals [3] though they would admit that no team in any tournament had given the Germans much of a scare as much as Cameroon, who in turn won much love from local Italians and they would return home as heroes. Sadly though, the dream of an African team in the last four sill goes on...
West German players celebrate after their victory
---------
​
After that dramatic game Quarter-final (one that many would say was a truly brilliant game in a World Cup filled with utter dross) then many wondered how the next game with Brazil and Yugoslavia would turn out. It was expected though that Brazil would come up on top with the fact that at this very same stage just four years ago that Yugoslavia humiliated brazil on penalty kicks to dump them out. Something that Brazil was certain wouldn't happen again.
It was a game in which Brazilian flair met Yugoslav brute force and this meant both sides did see them cancel each other out with no goals coming and once again that typical match that had plagued this tournament in which both sides seemed more interested in not trying to lose rather than try and win and for the largely Italian crowd in Rome watching the game expecting a classic, they were left wanting.
Stojkovic during the game with Brazil
​
Towards the end of the second half though, Brazil looked like they were going to tire and Yugoslavia saw this and decided to go in for the kill but yet they couldn't seem to break through and thus after no goals being scored, the game went into extra time much to the annoyance of the crowd and TV audience. That said they wouldn't have to wait long as in the 94th minute, a goal would come but not from Yugoslavia but in fact Brazil who needed that break before extra time to regroup and thus held on to that slender lead to get their revenge on Yugoslavia and dump them out at the last eight [4].
Despite being quite a boring game, it wasn't the worst compared to others and many were happy to see that Brazil, always the favourite, had gotten back to the last four where they hoped that they could, with one more game in their way, move onwards to the final where the might possibly get their hands on the cup after 30 years. For the Yugoslavs, it was bad for them but two years later they young and potential young squad would get their reward then [5] but that is another story...
Branco before finding the winning goal
---------
​
The following day saw the last two Quarter-Finals with the first being a what was looked on as an epic encounter with the hosts Italy and champions Argentina, the latter getting a hostile atmosphere from the home crowd those looking for goals wouldn't have to wait long as Schillaci scored yet to put Italy ahead in the 17th minute which looked like would see them set to go all the way to the next round.
However in the second half, Caniggia would get one back in the 67th minute and suddenly the game became quite a tense one as for the many Italian supporters in Milan [6] with a very real fear that they might lose this if they didn't score now yet both sides couldn't find a winning goal in the full 90 minutes and like the other Quarter-finals before them, the game would go into extra time.
The big clash in Milan between Argentina and Italy
​
Even extra time wouldn't see any find the killer goal then, however it would see a sending-off: Ricardo Giusti of Argentina was shown the red card in the 13th minute of extra time yet even that didn't help Italy as with that, the game went to spot kicks. Even then many still felt that Italy would be victors yet to the shock of many, Argentina held their nerve to win 4-3 on penalties and left a host nation shocked, upset and furious [7].
The aftermath would be infamous as riots took place around Milan, and in parts of other cities around Italy with their anger being directed at one Maradona [8] and the villain label they had gotten at this World Cup only seem to become more apparent, though ask anyone in Argentina, they were happy to see their side progress. For the host nation though, it was utter despair and many wonder if they would ever win the World Cup ever again...
Joyful scenes as Argentina beat Italy in the shootout
---------
​
The Quarter-Final took place with England and Czechoslovakia though perhaps they might've wised to have stay out on this one as all around them, a country was going crazy over their shock loss to Argentina. However this might've not been a bad thing as with the hosts out, that meant that the World Cup could be more hopefully for either side to win, mostly with England who knew that they had a very good chance to beat the Czechs.
Though this Czech team was certainly not one to push over, England would end up being the better team right from the start as Lineker would get the opening goal in the 4th minute which for any England was the best possible start they could ask for. However things would turn upside down when the Czechs would get a shock goal back which saw the first half end 1-1 and the feeling of yet another game of extra time loomed...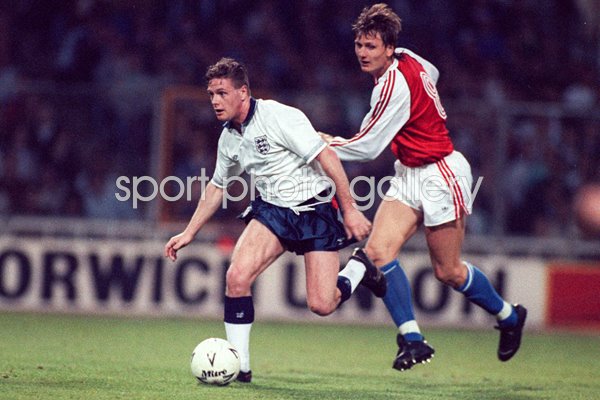 The English and Czechs play each other in the last eight
​
However, England would end up turning the heat up on the Czechs when they utterly dominated them playing like a team who wanted to reach the last four badly and their efforts would be rewarded when Lineker came again in the 65th minute to help retake the lead for England once again and that was all they needed as for once, it was a Quarter-final match that didn't need to go into extra time and England were back once again in the Semi-finals.
With that game finished, it also came the end of the Quarter-finals which now saw the World Cup move into the Semi-finals that nobody knew if they were either tight, open or anything really. Though for the host nation the interest might've been deflated slightly with them losing, four more teams still had a cup to win, but with the upcoming games looking tasty, who would they be...?
Final results of the 1990 Quarter-Finals
----------
​
[1] As with OTL in 1990.
[2] One rule of any football TL, Germans always win on spot kicks!
[3] The game is roughly the same as OTL England vs Cameroon game except there is not winning goal in extra time. Would've been quite a game if this had happened you have to agree.
[4] Yugoslavia go out at the 1990 Quarter-finals much like in OTL, expect they aren't unlucky unlike then.
[5] Look out TTL Euro '92!
[6] The game is much more hostile here with it not set in Naples as you can imagine why...
[7] The game is pretty much identical to OTL Semi-final though perhaps with a more violent aftermath. Speaking of which...
[8] This mostly happened in OTL after Italy lost so likewise same thing happens here. Interesting fact, there were more damage caused by Italian supporters during that evening than what English football hooligans did throughout that whole tournament.
Damn, what a boring set of games, though I think if this was OTL, we'd all agree that German vs Cameroon would've been the best game for drama and goals. As always, the last four as follows:
--------
West Germany vs Brazil

Argentina vs England
--------
What a stacked last four that is! Anyway until then, how are you liking it and would anyone like before we go into 1994 like an update on how TTL's UEFA European championship tournaments have been getting on here? Until then, stay tuned!