2010 FIFA World Cup Seeding and Group Stage
2010 FIFA WORLD CUP
Part 1
​
After decades, the World Cup was coming home to the motherland of football...England. The vote to allow England to host the World Cup in 2010 seemed like a sensible choice in the new voting pattern [1] due to the country already having a large football infrastructure in place that for the most part required very little work done with only one or two new stadiums built at most with the rest needing only minor adjustments or expansion.
In the end, the costs overall came under far less than what was spent in South Africa and it was clear that FIFA had learnt it's lesson of not hosting the World Cup in so-called non-football countries...that is minus everything else that was wrong at FIFA but all that's another story [2]. Interestingly enough before England put out it's bid out to host the World Cup, there was at one point a serious consideration to have Scotland, Wales and Northern Ireland jointly host it to help reduce costs [3] but this plan fell apart with England going on to host it solo though nonetheless the fact that England were hosting would see the rest of the Home Nations as well as the Republic of Ireland be motivated to qualify [4] which would give a very British taste at this World Cup.
The Seeded and drawn teams for the 2010 FIFA World Cup
While for some of the teams from the British Isles were making a long awaited return to the World Cup, there would be a number of familiar teams that were also making a comeback such as North Korea and Chile, both of whom coincidently had played at the 1966 World Cup when England last hosted the tournament then. However history aside on June 11th, the opening match with England and Japan would take place to begin the 2010 World Cup...
---------​
As hosts and with what looked like an easy group, England were red hot favourites to win the group and though that would be the case, they didn't exactly set the world on fire. An uninspired 1-0 victory over Japan in the open group game happened before a poor 1-1 draw with Australia followed with a certain English goalkeeping error being the most well documented event from that game which was remembered for all the wrong reasons [5].
England would end the group stage with a 2-0 victory over British rivals Northern Ireland in which the latter finished rock bottom with zero points and putting an end to their journey. Winning the second place spot would be Australia who felt that they had a good chance as anyway to try and make a good show at this World Cup with perhaps the best game so far was a thrilling 3-2 victory over Japan.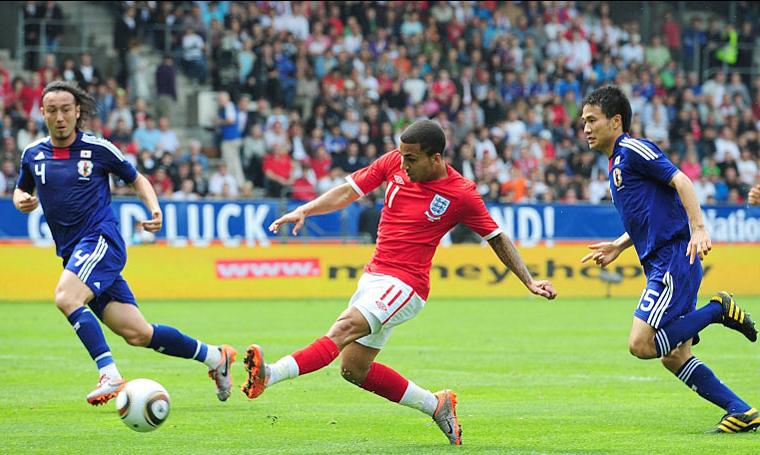 England vs Japan in the Opening Match at Wembley Stadium
​
All in all, the final rankings for Group A were pretty much what most expected though there was a little bit of regret that Japan didn't do enough to try and fight for a place in the next round but for England and Australia, their World Cup adventures were just starting and though results may have been what most had expected, that didn't mean to say that all over group stage results would be quite the same...
Final results of Group A at the 2010 World Cup
---------
​
Group B from the start looked like one that France was easily going to walk it, however things would go off the rails when following a 1-1 draw with the Ivory Coast, the French team began a mutiny over the expulsion of one of their players and despite a victory over whipping boys North Korea in their final game, it proved too little too late as a defeat to Chile in their second match saw their terrible World Cup come to an end [6].
As this was going on, Chile surprised many by winning the group while Ivory Coast also did well to qualify via second place and there was suddenly unlikely hope for both teams to see how far they could go but time would tell to see if either did well. For North Korea however, they finished bottom with no points and were a far contrast to the amazing 1966 North Korean team who came so close to reaching the last four [7].
One embarrassed French team after a 2-0 loss to Chile
​
With a major seeded team out, that made things a whole lot interesting for the neutral but little did anyone know then that the French would be far from the only big named team that would suffer an early exit...
Final results of Group B of the 2010 World Cup
---------​
Group C was considered by many to be the Group of Death for good reason. It was a tough group that featured Spain, Italy and Mexico with little New Zealand making up the numbers and despite the Kiwis making an early exit much to no one's surprise, they would however shock everyone when they managed to hold Italy to a draw [8] though that would be the only point they would get.
Speaking of Italy, despite being one of the favourites as normal they would fail to get out out of the group [9] though being such a tough group that was not quite a surprise though nonetheless it raised a few eyebrows. Perhaps the team that made many think were the one to go all the way was Spain who would win all their group games with Mexico joining them in the next round [10].
Italy vs New Zealand in the second match of the group
​
With that all said, another seeded team was out and who knows how many more were to follow...?
Final Group C results of the 2010 World Cup
--------
​
Group D was one that favourites Brazil won the group by a country mile winning all their games and not letting in a single goal. While many seeing Brazil winning the group was a foregone conclusion, the question was who would win second place was between Greece and Scotland with Honduras being nothing more than the whipping boys for all three teams.
In the end and thanks to a home advantage, Scotland would qualify in second place though they nearly didn't make it when in their final group game with Honduras they blew a 1-0 lead to see the Central American side shock them to lead 2-1 and a huge upset was on the cards. However Scotland would strike back to win 3-2 though both goals came from penalty kicks and their performance left a lot to be desired [11].
Scotland vs Brazil in their group game
Despite criticism, the impossible dream for Scotland to try and win the World Cup, or at least get to the final, on their arch rival's soil was on and like many in what was looking to be a strange World Cup, who knew what might follow next for the Scots?
Final results of Group D of the 2010 World Cup
-----------
​
Group E was quite a hard group to call though it would be one of the tightest groups with not many knowing how it would end up. In the end it would see much to everyone's surprise Uruguay winning the group with the Dutch sneaking through in second place by the tightest of goal differences ahead of Denmark who must've felt very unlucky at the circumstances that had befalling them.
Also in the group was Algeria who despite having a win didn't do enough to help them progress further though in all fairness giving the level of each of the teams, it was all a group that could've gone either way though despite finishing in second place, many eyes were on the Dutch for some felt that with the squad of players they had in the team that many felt they had a good chance to go all the way.
Uruguay players celebrate a victory over Algeria which saw them go through
​
It had been a long time since Uruguay had made it to the last four of a World Cup and for those living in that country, some were starting to wonder if maybe they would be able to have a chance to regain their position at the top of the world...
Final results of Group E of the 2010 World Cup
---------
​
Without question, Group F would without doubt be the most tightest group in the whole World Cup in which all the teams would end up with four points, a win, draw and defeat between them all and goal difference would decide it all. Things would start of with a huge shock when Paraguay defeated the champions, Germany, in the opening match though they would get their act together and thanks to conceding less goals, ended up winning the group though it was by the skin of their teeth.
More so was with South Korea who despite starting off so well with a win over Cameroon would suffer a defeat to a red faced Germany and a draw with Paraguay. Nonetheless by scoring more goals than the rest they would sneak through to the second round though one had to spare a thought for Paraguay and Cameroon for feeling that with just a little bit more luck...
South Korean players after scoring against Cameroon
​
Though the Germans were the favourites and had won the group, they had made a right dog's dinner out of their World Cup so far and they would have to do much better if they were wanting to defend their crown in the second round...
Final results of Group F of the 2010 World Cup
---------
​
Group G was one that many said Portugal was going to go through and the battle for second place would be the real battle. However what shocked many was Portugal falling at the first round who despite a victory over whipping boys Nigeria and a draw with the United States, a bad defeat to the Irish sealed their fate and their unexpected early exit shocked many. Though given the amount of seeded teams that had fallen already, it wasn't quite a surprise.
The winners of this group would be the United States [12] who after their opening match victory over the Republic of Ireland never looked back and many across the United States were now starting to wonder if maybe they could be the unlikely dark horses of the tournament? For the Irish, they were just happy to be in the second round and to be doing better in bragging rights over their Northern friends [13]...
American players after their winning goal over Nigeria
​
With such a bizarre outcome in the group over who had gone through, not many had a clue as to how well both the United States and Ireland would do in the second round but they would be both to keep an eye on...
Final results of Group G of the 2010 World Cup
---------
​
The final group of the World Cup was one that on paper looked like Argentina would win the group all over and with the legendary Diego Maradona as their manager, what could go wrong? In their opening match, Argentina would end up being 1-0 behind against Ghana for most of the game before turning it around to win it, a comfortable victory over the Swiss followed but their final group game with Wales proved to be controversial in which Wales needed a win to give them some hope, however a wrongly given penalty for Argentina over what seemed like a dive would be taken by newcomer Messi who ended up dumping the Welsh out of the World Cup.
While Argentina would win the group, it had been all touch and go for them with some doubting if they had what it took to go all the way and that this wasn't like the Argentine teams of old that was for sure. The second place team would Ghana would by some accounts were thought of as the best African side at the World Cup though that was a fact that was debateable.
All love and joy for Argentina
​
By a staggering coincidence that with the exception of Switzerland, the other three teams in the group had all been part of the same group in the 1966 World Cup in England [14] though this time it would be Ghana going in Wales' place. Would Argentina get their act together in the second round to pull off their performance they did at the last World Cup or would Ghana show the world what they were made off...?
Final results of Group H of the 2010 World Cup
​
With that and after a number of stunning results, the last 32 teams had made it to the second round and the question was with so many so-called 'big' teams out already, who else might follow in their wake? Time would soon reveal just that as England 2010 was shaping up to be quite a unpredictable tournament...
---------
​
[1] The new voting pattern here is pretty much like how OTL voting system for the 2026 World Cup.​

[2] What else is new with FIFA, huh?​

[3] Pretty much the plan for OTL proposed 2030 WC bid at the time of writing...​

[4] As something you'd expect to happen with it being in England, plus Ireland doesn't get screwed over in their play off here.​

[5] Yes, Greenfingers strike again like with the USA in OTL!​

[6] Yes, pretty much the French farce we had in OTL 2010 happens all the same here, still one of the funniest moments of the World Cup mainly out of karma for the poor Irish!​

[7] Both as with OTL and TTL.​

[8] As in OTL.​

[9] As with OTL too.​

[10] Somewhat better for Spain here as there is no loss to the Swiss here.​

[11] It's Scotland, is pretty much the same as OTL when it comes to them trying to throw away a game!​

[12] Like with OTL.​

[13] As you would expect...​

[14] Look back earlier ITTL to check that one out.​
At last, here we are in England for the 2010 World Cup! So yeah, a few differences here and some similar things here; always nice to change results around as it's always fun to do so! Anyway with that out the way, the last 16 fixtures as follows:
----------
England vs Ivory Coast

Spain vs Scotland

Uruguay vs South Korea

United States vs Ghana

Chile vs Australia

Brazil vs Mexico

Germany vs Netherlands

Argentina vs Republic of Ireland
-----------
So who do you think will win and why do you think that? Until then, take care and see you all soon!
​